CT-08 Ormazabal Load Break Switch Operating Mechainsm
CT-08 Ormazabal Load Break Switch Operating Mechainsm
CT-08C(F)spring operation mechanism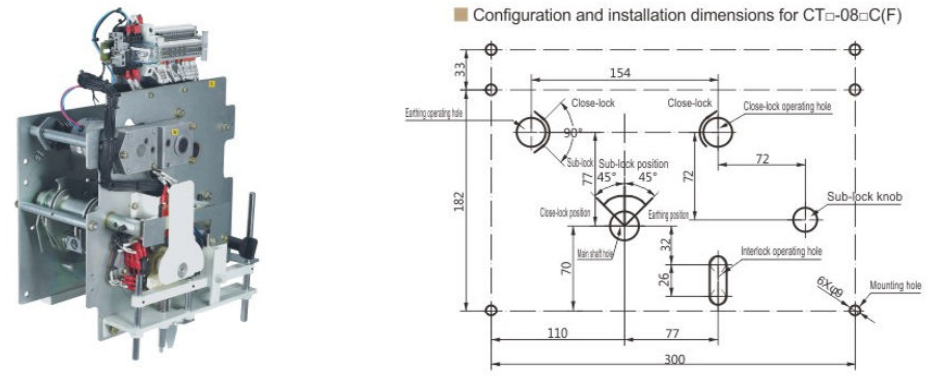 The mechanism operating instruction of CT-08SD/DC
The closing operation of the load switch
Install and fx the mechanism to the body, use the specialized operating handle, plug into the mechanism closing shaft (right),
clockwise rotation until the closing spring complete the process of energy storage to energy released ( There is a preventing rotary
equipment, safe and less effort ). The mechanism make the contact rotary quickly that complete the closing operation of load switch.
At the same time, being ready for opening by energy storage, or motor electrified lead the mechanism complete the closing operation.Opening operation of the load switch
Only rotating the tripping rotary knob (clockwise rotation), making the energy of the tripping spring released, mechanism leads the
principal shaft to complete the tripping operation quickly.
Grounding closing operation of the load switch
Plugging operating handle into grounding operating shaf(lef) anticlockwise rotation for 90 ,the grounding circuit close.
Grounding opening operation of the load switch
Rotating operating handle anticlockwise for about 90° ,the grounding circuit is tripped by the mechanism spring force.
Note: 1. The spring operation mechanism with outgoing line include the functions of the fuse tripping, manual tripping knob. In
addition. it can include tripping coil and overcurrent tripping coil.
2. If users order eletric spring operation mechanism, please note the rate of voltage (such as DC220, DC110, DC48, Dc24)
3. If users need the shunt trip coil, please note the rate of the voltage, or it is recognized the same voltage level as the electric
operating motor.
CT-08J the spring operation mechanism

CT-08 operation handle boundary dimensions