Manufacturing with advanced equipment
Xingji Electrical Apparatus Co., Ltd insists on providing customers with the highest quality products and the most professional supporting solutions.
1. Introduce advanced CNC machining equipment at home and abroad to ensure product precision and strength;
2. Independently control the production and key processes of the core components of the products, effectively reduce the risks of the supply chain, provide customized services for customers, and meet different requirements of customers;
3. Introduced lean production management concept, automated & semi-automatic assembly line, large-scale production, improved production efficiency, and realized rapid delivery.
Xingji has a number of industry senior technology experts, strict auditing of the elements of product processing from raw materials to processing equipment. Continuous technological research, active exploration of new technologies and materials, and efforts to promote intelligent key processes, key post robotic substitution. The self-developed three-axis vision manipulator automatic assembly machine has been successfully applied in the assembly line. Multi-station continuous stamping automatic die, chassis fixed plate automatic processing assembly line, RMU operating mechanism panel automatic processing assembly line, RMU operating mechanism run-in table, improve the enterprise's technical level, production efficiency and product quality.
At the same time, we pay attention to the protection of new technological innovation results. In the process of technological innovation, it adopts the patent protection method for new technologies and new methods and obtains more than 20 patents.
Lean Production Line: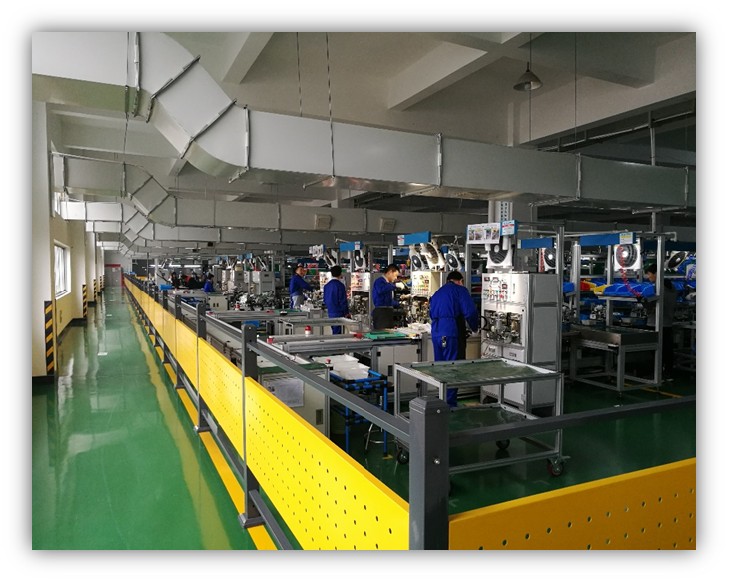 The advanced equipments: